..


The Greater Cleveland Senior Softball league has created an archive of pages for viewing various memories of and from the past that have helped shape and molded our close knit group over the years.
---
Mike Block's 70 and over team took second place in Barberton. They went undefeated but lost the tie breaker as they gave more runs than the Michigan team.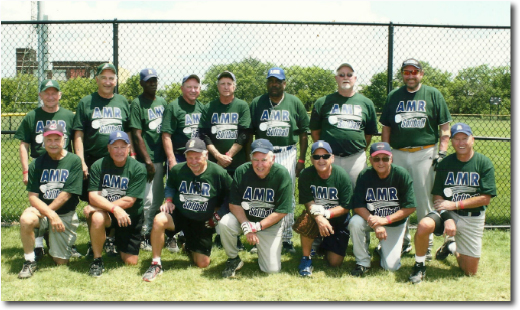 ---
---
Memorable Tournaments (2013)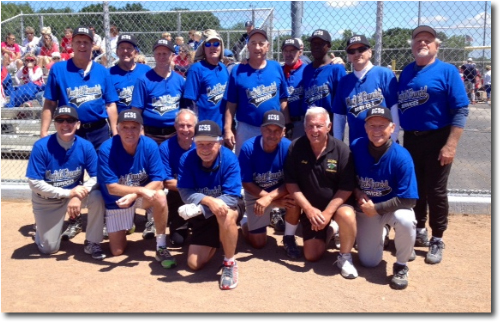 Congratulations to the 3 GCSS teams on their excellent performances in the Senior Olympics just concluded in Cleveland. Almost half of Greater Cleveland Senior Softball's players competed in these US National Senior Games that just ended on August 1.

The 70-74 age team, managed by Joe Ferlin, won the Gold Medal in the "A" bracket. The 60-64 age team, managed by Guy Selinka, won the Bronze Medal. The 65-69 age team, managed by Mike Bloch, earned a Ribbon for its fourth place finish.

These teams had qualified for nationals last year in the 2012 Ohio Senior Games by earning two gold medals and a silver (for the 70-74 team). The next competition for the US nationals will be held in Minneapolis in 2015, so seniors, who want to compete there, must qualify in the 2014 Ohio Senior Games.

Playing for the 70-74 team (sponsored by Mayfield Financial and GCSS) were these GCSS players: Mike Wolanski, Ike Roundtree, Don Novak, Dewey McVicker, Tom Kulwicki, and Joe Ferlin.

Playing for the 60-64 team (sponsored by Seven Hills Lanes and Pepco) were these GCSS players: Tom Pokorny, Bob Oster, Pete Miller, Gary Martin, John "Stubby" Griffin, Dennis Forman, Tom Coyne, Ron Clawson, and Rich Butler.

Playing for the 65-69 team (which sponsored itself) were these GCSS players: Bob Zukerman, Bill Winar, Norm Strelka, Tim Klodnick, Dave Farquahar, Fred Cooper, Aerie Bothwell, and Mike Bloch.

---
Summer National Senior Games
Cleveland Ohio - (July 21 - Aug 5, 2013)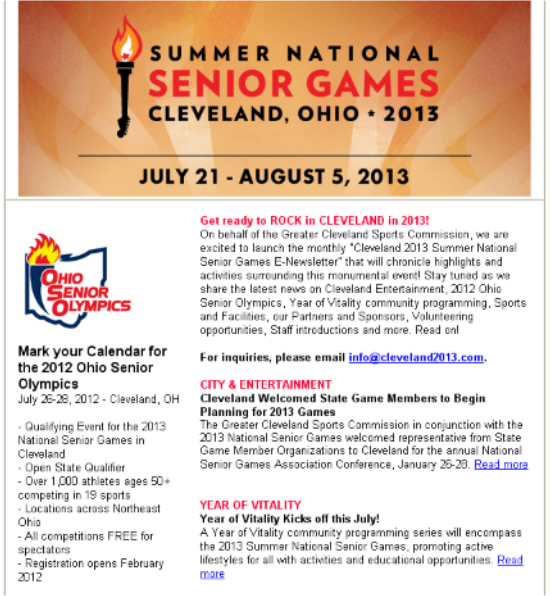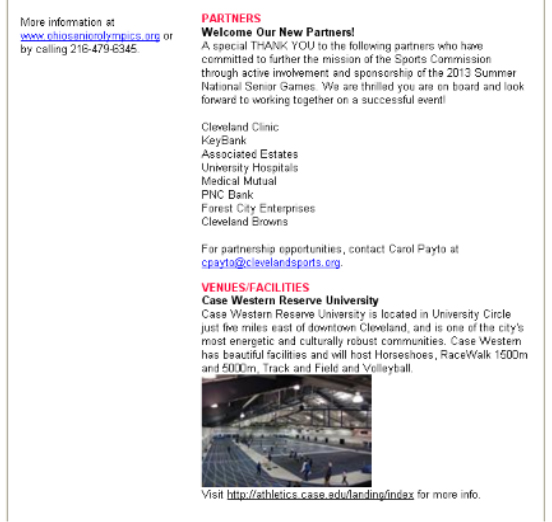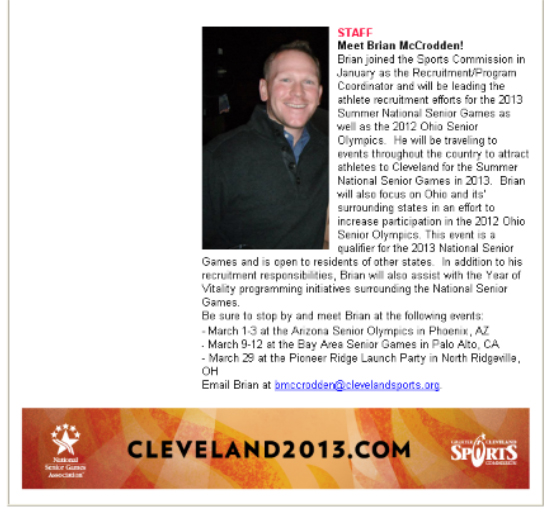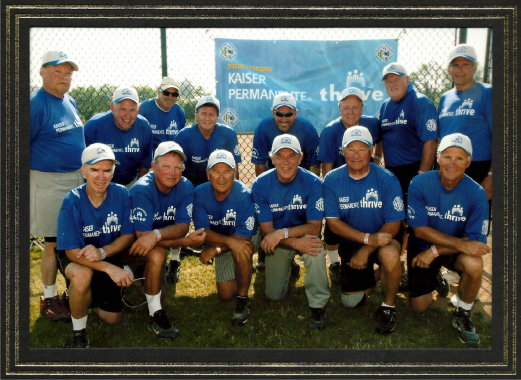 The picture is the Cleveland Kaiser Permanente team that took second in the 65 and over division in Barberton. Some faces should be familiar.

Peach Tree Lounge & Restaurant
70 Division Champs - 2012
Rochester, NY - Irondequoit Park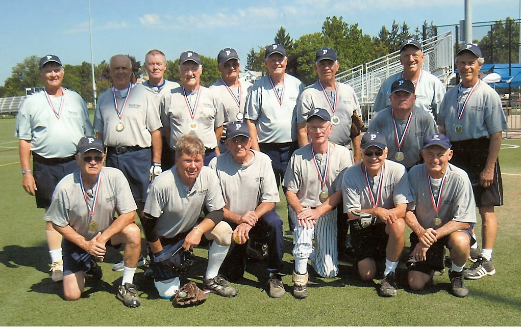 Bottom Row L-R
Bob Devlin, Bill Hoenshier, Bill Regan, Mg. Don Lange, Fred Gutshall, Art Barnes

Top Row L-R
Dick Hill, Tom Strickler, Bill Purchell, Ron Weidman, Jerry Draper, Bob Lawrence,
Joel Medidovich, Pete Snyder, Don Germer, Carl Horst
K/P North Coast 70 Major tournament team
Runners up at Dayton, OH tournament in May of 2011
and
finalist at the Mountaineer Classic in Morgantown, WV in June of this year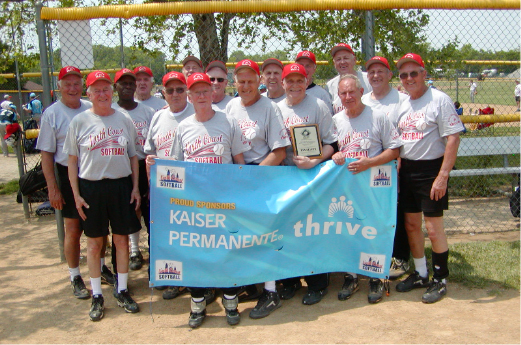 The 65 and over AAA Kaiser Permanente team from Cleveland won the Softball Players Association (SPA) Worlds Championship in Dalton, Georgia.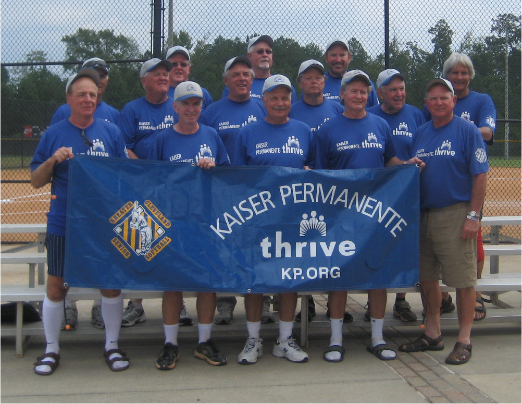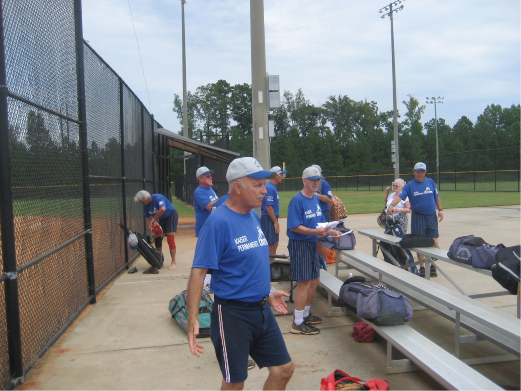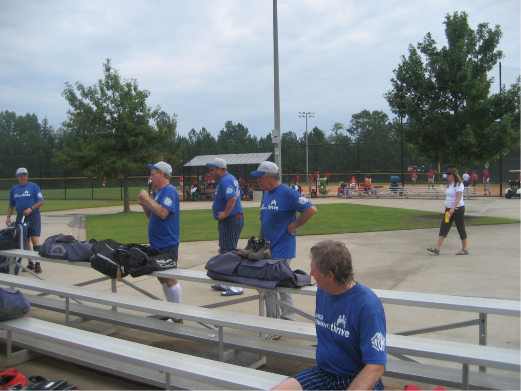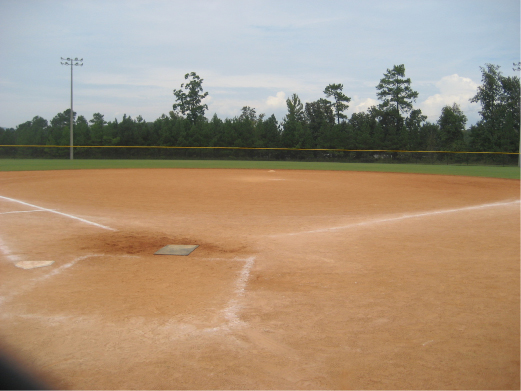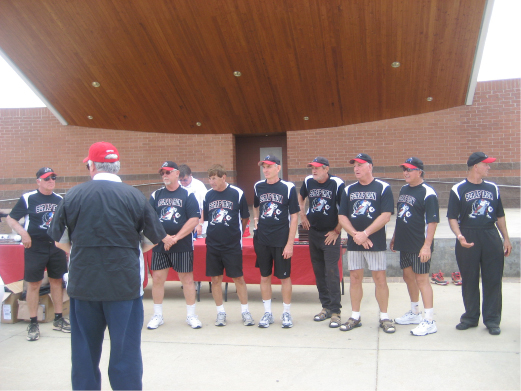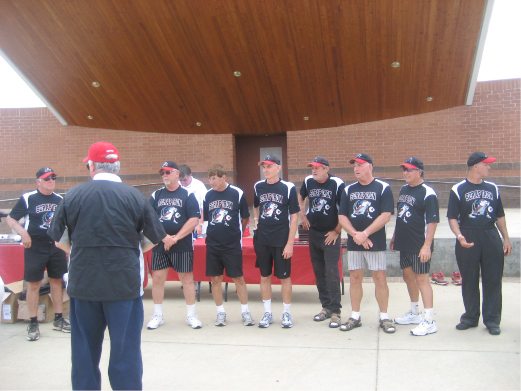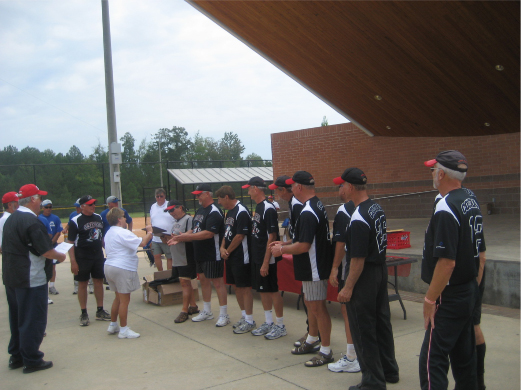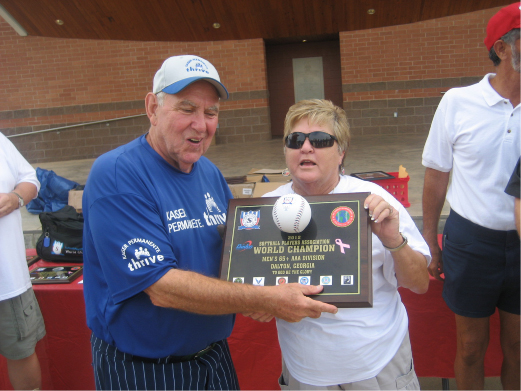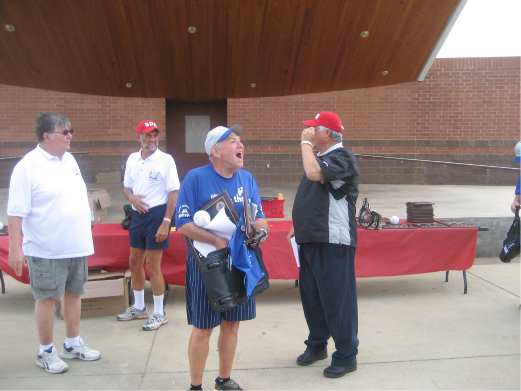 Don Lange presenting Greg Mercer, Vice President, Marketing Sales and Business Development for Kaiser Permanente with a Kaiser Permanente Northcoast 70+ AAA Buckeye Classic and Runner UP at Winter National Championship
Trophy and Plaque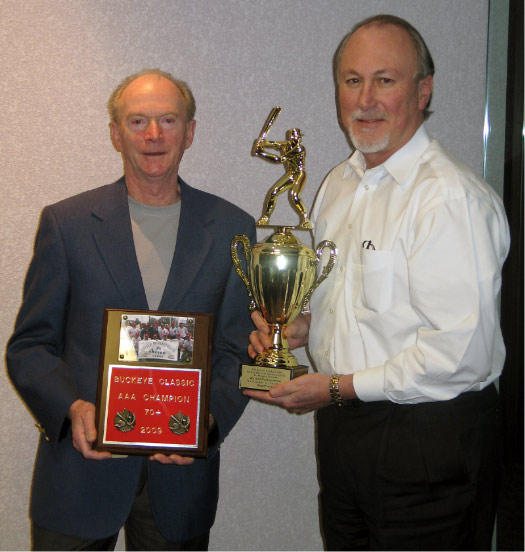 2011 Winter National Championship
Fort Myers, FL
Kaiser Permanente / North Coast 70+ Major Tournament Team
Front Row: Dick Honkala, Don Lange
Back Row: Sam Wyman, Mgr. Vern Carr, John Miller, Bill Murphy, Jerry Kopacko, Tom Siewiorek, Tom Maloney, Ike Roundtree, Don Kessler and Russ Negray