---
Posted Mon, May 25 at 3:28 PM
GCSS Members:
We have better news than last time.

We have a tentative start date, We have new rules and procedures and we're waiting on confirmation from Strongsville.
Please check your email for information about the start of our season. We have been given a reprieve by the Governor and are now only waiting on Strongsvilles OK.
If you have no email please check with a member who does or contact one of the GCSS board members for details. ASAP
Thanks
GCSS BOARD
JOHN, KEN, WAYNE.
---
Announcement Date: 23 December 2019
Winter Players
Attached Team Roster Assignments with managers contact info and shirt colors, Winter Rules & Schedule. Any questions or games you will miss contact your manager directly. The season starts on Friday January 10th at Caps Fieldhouse, 6060 W Canal Rd, Valley View. There will be two double headers staring at 10:00 & noon. Get there about a half hour before your team's games to warm up. The entire season fee of $100 is due on the 10th to Your Manager. Checks can be made out to Greater Cleveland Senior Softball ( GCSS ).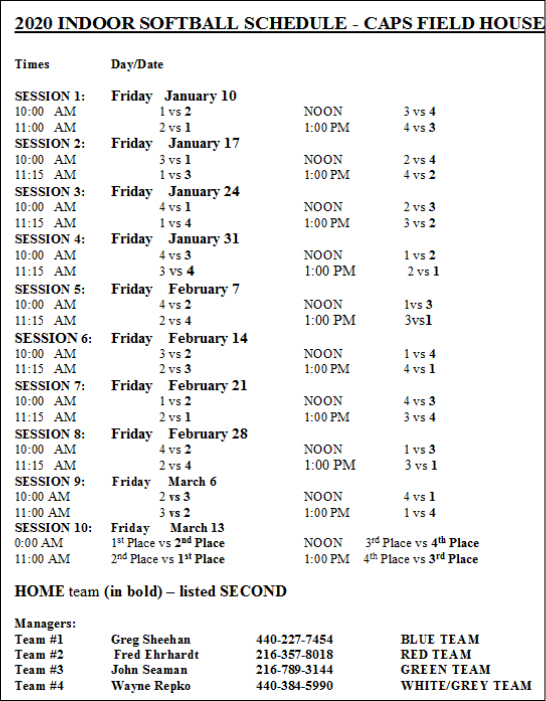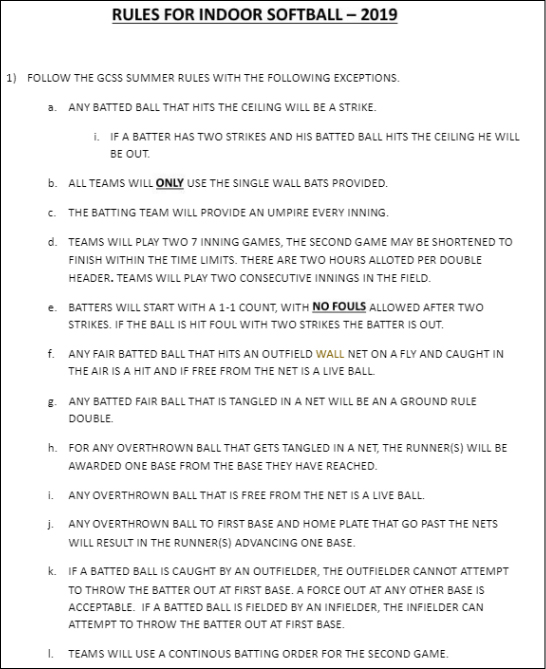 Have a great Holiday, see you in January.
Wayne Repko
---
Announcement Date: 28 October 2019
Election Results
Per our league Bylaws, nominations for all four Board positions (two-year terms) were opened at the October league meeting. The following members were nominated:
Commissioner- (NO NOMINATION)
Publicity Chair- Wayne Repko (Uncontested)
Treasurer- John Caruso (Uncontested)
Secretary- Ken Delfing (Uncontested)
A motion was made to put the uncontested positions to a floor vote. Motion carried. The membership approved Wayne Repko as Publicity Chairman, John Caruso as Treasurer, and Ken Delfing as Secretary. The new terms will commence January 1, 2020. Congratulations to you all.
The Commissioner position remains without a nominee. Anyone interested in this position should contact any Board member.
Michael Doyle
GCSS Secretary

---
Announcement Date: 28 October 2019
GCSS members & supporters,

The Greater Cleveland Senior Softball League is proud to announce that Jack Salmon was voted the 2019 recipient of the Jerry Kopacko Spirit Award. Best regards to Jack, who will receive his award at the December 2019 league meeting.

The league also recognizes the other fourteen league members who were nominated for this prestigious award. Being nominated by your peers speaks to your character and to your sportsmanship. You are all winners!

Thank you to our league members for their support in the nomination and voting process for this award. Your active involvement continues to make the GCSS League a success!

Your GCSS Officers
---